|Official Site|Filmography|Awards|
Oh Ben! He's so gorgeous. I have a major crush on him. I'd go to a bad movie just to see him. Luckily he's generally in good movies, and he's a very good actor. I think he's very talented. From reading interviews and his posts on the net, I've found him to be highly intelligent and very witty; it's so nice to know he's not just a pretty face!
Ben is best known for winning the Golden Globe and the Academy Award for co-writing Good Will Hunting. Here's a pic of the four Good Will Hunting guys, Ben, Matt Damon, Casey Affleck, and Cole Hauser.
Here are pics of Matt and Ben after winning the Golden Globe and the Academy Award.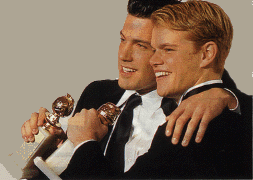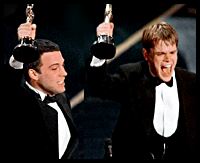 Writing GWH and co-staring in it was Ben's big break but Ben isn't exactly a newcomer. The movie School Ties starred an ensemble cast of future stars,including Ben, Matt Damon, Chris O'Donnell, Anthony Rapp, and Brendan Fraser.
Ben played O'Bannion in the Cult classic Dazed and Confused. My Matthew was also in the movie.
Ben has been in two of Kevin Smith's "Jersey Triology" movies, Mallrats and Chasing Amy. I love the View Askew movies, they are just incredible. Chasing Amy is my favorite, it's hilarious and a really good people story. Here's the first time you see Ben (other than the stills in the opening credits) in the movie. For more Chasing Amy pics, check out View Askew's Story in Pictures. Go here for the Mallrats version.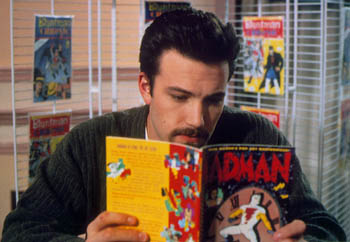 Ben co-starred with Bruce Willis and Liv Tyler among others in the 1998 summer blockbuster Armageddon. He played AJ, the cocky oil driller who is a total sweetheart. Here's his poster for the movie.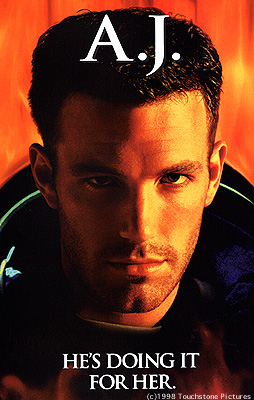 And here he is with on-screen love Liv Tyler.
Ben is a gorgeous man with a sexy voice, remember when he said "will you marry me" or the animal crackers scene (or the i love you speech in Chasing Amy)? I'm so glad they included "Animal Crackers" on the Armageddon soundtrack. Here's a pic from Armageddon, that I liked.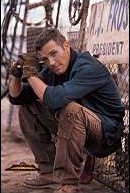 During the spring of 1998, he was in Pittsburgh with Matt Damon filming Dogma. I'm from Pittsburgh and I'm really irritated that i wasn't there when they were. Anyway, What would a ben page be with out a pic of him with his best friend? We've got the guys doing adorable and doing macho
There was an article about Ben in the February 98 issue of GQ. Here's the cover he says he was tricked into opening his shirt for.
Here's Ben looking adorably intellectual wearing glasses. This one's also from GQ.
And here's an amusing picture of Ben, with brother Casey.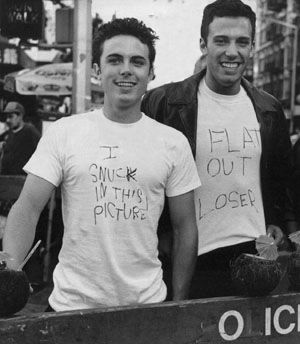 In December 98, Shakespeare in Love was released. Ben played Ned Alleyn. I loved this movie. Shakespeare in Love won Golden Globes for Best Picture-Comedy, Best Screenplay (Ben presented this one), and Best Actress-Comedy for Gwyneth Paltrow. SIL also received 13 oscar nominations. Here's a pic of Ben in character: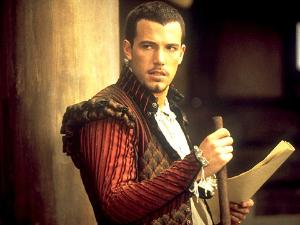 Here's the Shakespeare In Love movie poster. That's not Ben in the picture (it's Joseph Finnes, who's a cutie too) but i love the poster so i'm putting it here anyway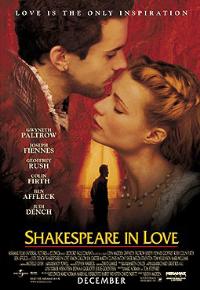 The cast of Shakespeare in Love won the SAG award for Outstanding Performance by a Cast in a Theatrical Motion Picture. Here's a pic of Ben (with Gwyneth Paltrow) after winning the SAG.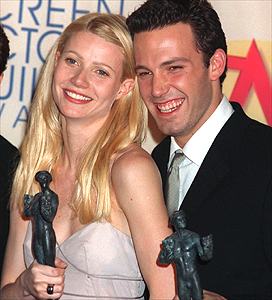 200 Cigarettes came out February 26, and is a very funny movie. It's an ensemble piece staring Ben, Casey Affleck, Christina Ricci, Gabby Hoffman, Courtney Love, and Paul Rudd among others. Casey Affleck is absolutely adorable in this movie. Ben's character in the movie is nameless, he's known just as the bartender. Here's a pic: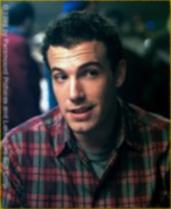 Forces of Nature is a romantic comedy about love and fate that came out march 19th. FON is a fun and romanic movie that i loved seeing Ben in. Also in the movie are Sandra Bullock and Maura Tierney. Here's the movie poster: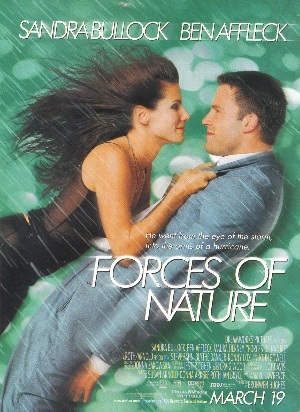 Here's Ben with on-screen fiance Maura Tierney: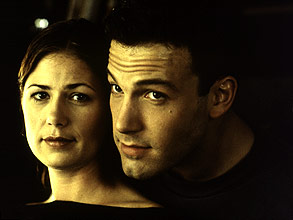 Ben and Sandra do a little dancing in the movie, check it out: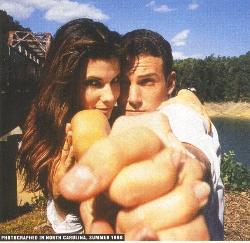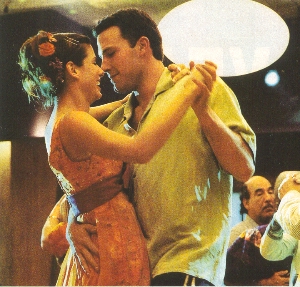 Oh that Ben Affleck smile!!!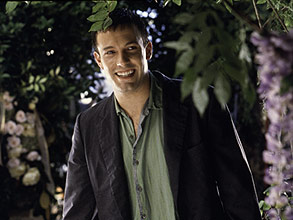 The 71st Academy Awards occured on Sunday March 21st, and Shakespeare in Love took home 7 oscars, including Best Picture. Ben presented the Documentary awards with Matt Damon. Here's a pic of the two from their red carpet arrival: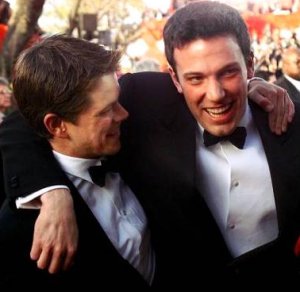 Ben was on the cover of the October Vanity Fair and I must say he looked damn good! Here's the pic: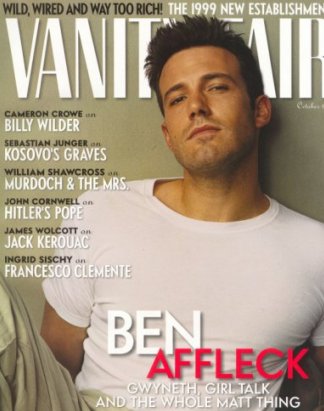 And here's a pic from inside:
Kevin Smith's latest movie, Dogma, opens November 12, and i for one can not wait. Dogma has a cast of View Askew regulars (Ben, Jason Lee, Jason Mewes, Kevin Smith) and other name faces such as Chris Rock and Alanis Moresette. Here's the movie poster: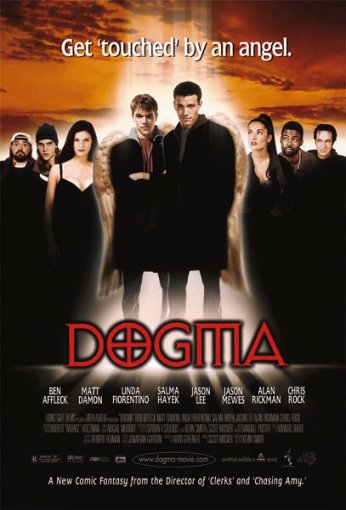 Ben's upcoming releases Daddy and Them, The Boiler Room, Reindeer Games, and Bounce. Ben's production company, Pearle Street Productions, began filming it's first movie this past summer.